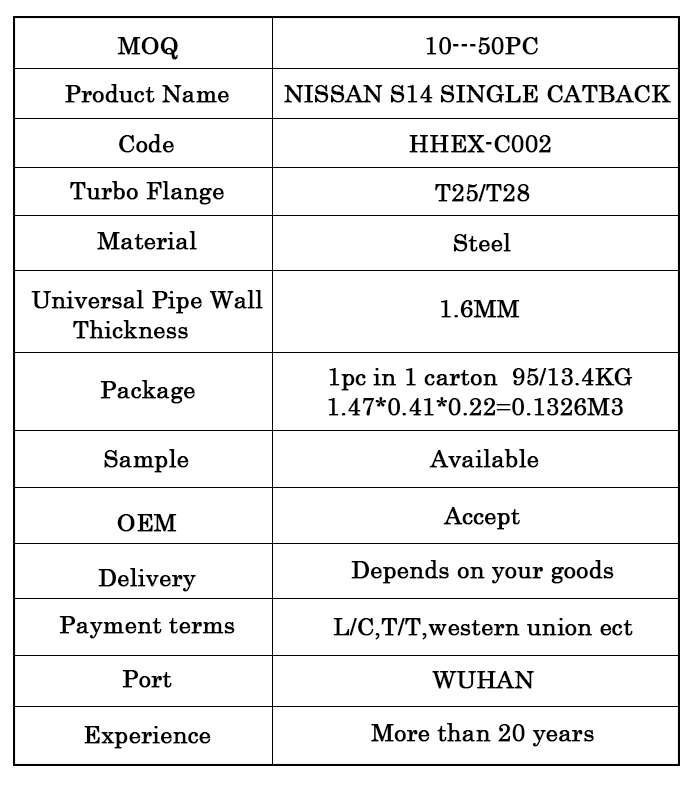 Q1. When was your company established?
A: Our company was established in

1980

.
Q2. Where are the factories in your company?
Ar: Our company has 4 factories, silicone tube insulation factory in Linhai, Zhejiang, water tank factory in Shiyan, Wuhan, exhaust pipe factory in Zhongxiang, Jiangsu, carbon fiber factory in Dongguan.
Q3. How is the product packaging?
A: according to customer demand packaging technology and packaging methods to package products
Q4. What are your payment terms?
A: According to the payment method of new and old customers, new customers pay 30% as a deposit, and 70% after the customer pays before delivery. Long-term customers can pay off the payment within one month after delivery
Q5. What is your sample policy?
A: The sample fee includes the mold fee and the express fee. The mold takes about 20-30 days. A 50% deposit is paid first, and the sample passes the customer's index and then the other 50% is paid.
Q6. Do you test all items before shipping?
Answer: Yes, we have passed 100% testing before shipment. Our PPM has passed the IATF16949-2016 quality management certification system certification and the ISO14000 environmental management standard certification. There is no problem with the product quality
Q7. What is the minimum order quantity for this product?
A: The minimum order quantity of the product can be based on customer needs, the larger the quantity, the cheaper the price.
Q8. What is the material of the product?
A:The material of the product is steel,stainless steel,aluminium or other alloy.
we can produce as cusotmer requirment.
Q9. How long is the delivery time?
A: Usually about 20-30 days
Q10. The company's technology research and development capabilities business scope?
Answer: 1. Product design (reverse and forward):
Powertrain components, vehicle intake and exhaust systems, thermal management systems, hydrogen fuel cell systems, etc.
2.CAE simulation:
CFD, structural mechanics, 0/1 dimensional performance simulation, modal analysis, noise analysis, mold flow analysis, CNC programming, etc.
3. Tooling mold design:
Injection molds, stamping molds, plastic parts welding fixtures, etc.
4. Component verification test:
Performance test, reliability test, durability test, raw material test, cleanliness test